Back To The Future changed the way a generation saw time and technology, and this year, the timeline-altering phenomenon is celebrating its 30th anniversary. I think it's time to party!
Soooo, let's….
Host a Back To The Future Party!
Break out the Tabs, call your friends over, and party like it's 1985! I can't think of a better reason to get all your old friends together than to re-watch the legendary film that started everyone's obsession with time travel. To help, here are three free printables inspired by the movie to decorate with…fans know exactly what these are!
Save The Clock Tower!
The flyer that let Marty know exactly when lightning would strike is now available for you to hand out to your guests (or random people on the street). If it weren't for those do-gooders, Marty might have ended up the son of Biff! Click on the image below for your printable:
Re-elect Mayor "Goldie" Wilson
Because he really did clean up that town, maybe thanks to Marty telling him he'll be Mayor in the future he knew? It's a paradox! Just remind everyone that this year during election time, re-elect Mayor Goldie! Click below for the free printable:
Enchantment Under The Sea Dance
Fall in love all over again at the Enchantment Under The Sea dance- be there or be square! And make sure you set the stage with songs like "Power Of Love", "Earth Angel", and "Johnny B. Goode", because you can't fall in love without the right music.
Back To The Future was the highest grossing film in 1985, launching one of Universal's most successful franchises, and is the one movie we all come back to again and again. Will we ever be able to time travel? Would we event want to go back and change anything? And where are those darned hoverboards already, we all want one!
Back To The Future 30th Anniversary Re-release
The 30th Anniversary re-release of the Back to the Future series on physical and digital media is coming soon, including a Blu-ray special edition. The re-release will be available October 21, 2015 (the day Marty travels into the future to!) and the films will also receive a national theatrical re-release!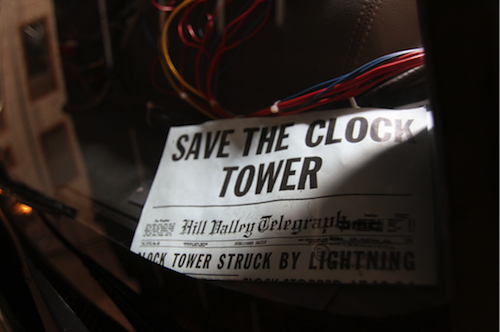 Are you excited for the re-release too?